On October 15, a 5000m³ dual-fuel full-pressure LPG carrier (No. S1053) built by Nantong CIMC Sinopacific Offshore &Engineering Co., Ltd. (hereinafter referred to as "CIMC SOE") for the German Hartmann Group (No. S1053) in Zhoushan Changhong International Shipbuilding Co., Ltd. (hereinafter referred to as "Changhong International") held a grand opening ceremony. Shipowner's representative Long Yefei, CIMC SOE's deputy general manager Pan Xiaojun, Changhong International's deputy general manager Shen Zhihua, DNV-GL classification society representative Dai Yueming and other leaders and key professionals participated in the groundbreaking ceremony.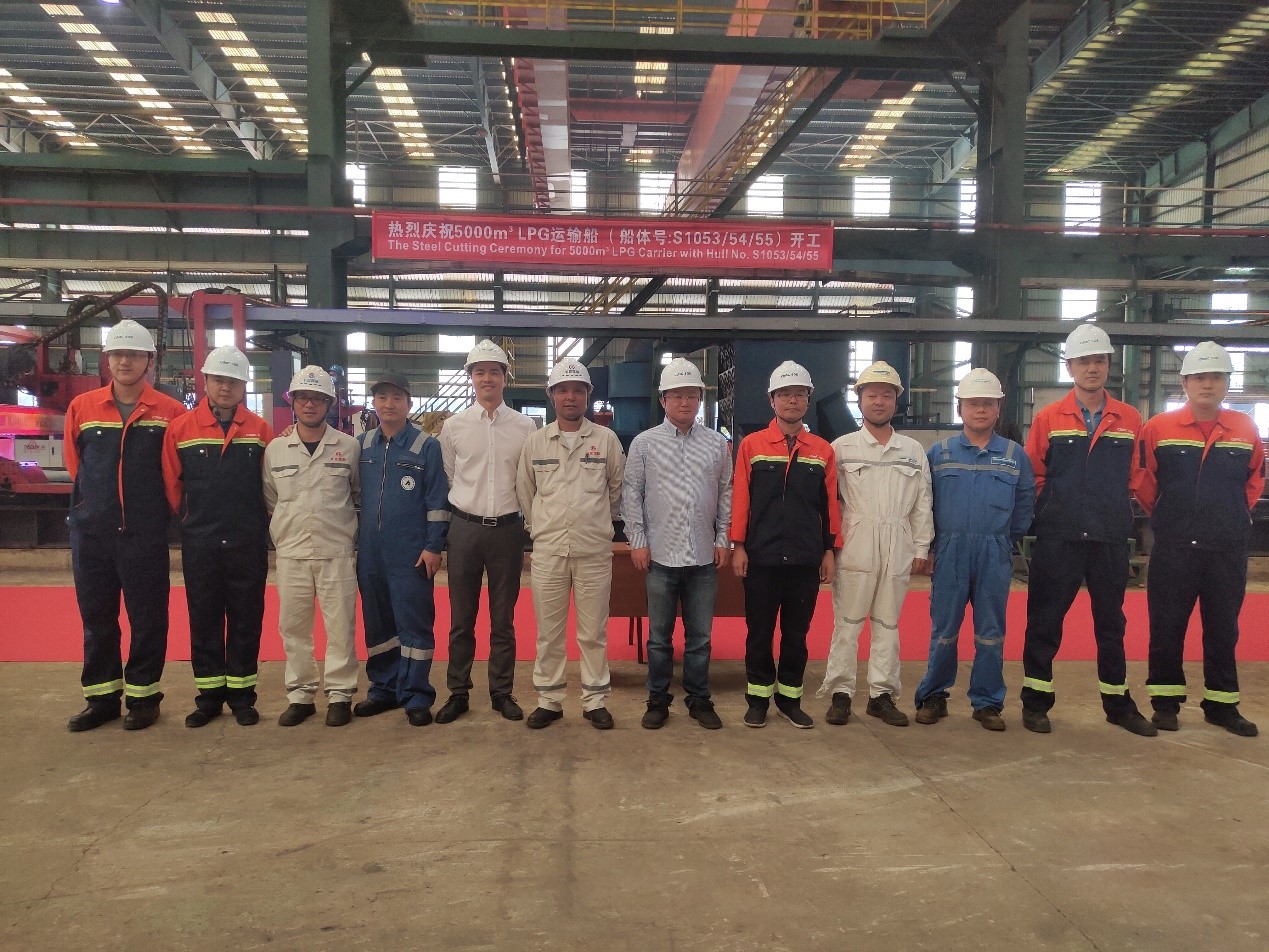 It is reported that the 5000m³ full-pressure LPG carrier launched by CIMC SOE uses MAN's LPG dual-fuel main engine, which is the world's first dual-fuel full-pressure LPG carrier. Under the condition that the total length is controlled to not exceed 100 meters, the hull line type and layout are deeply optimized. The ship type meets the requirements of the latest specifications, and its performance has reached the world's leading level. Compared with the traditional full-pressure LPG ship, the ship has the advantages of low fuel consumption and environmental protection.
Hartmann Group and CIMC SOE have a long-term and stable friendly cooperative relationship. In more than ten years of cooperation, CIMC SOE has delivered a number of high-performance ships to Hartmann Group, including the "2017 Top Ten Global Ships" Ship Gaschem Beluga". CIMC SOE is the world's leading manufacturer of liquefied gas ships. Its products cover various types of ships such as LPG/LEG/LNG. The products currently under construction also include 20,000 cubic meters and 7,500 cubic meters of LNG transport bunkering ships, of which 20,000 cubic meters of LNG transport bunkering ship is currently the largest LNG bunkering ship in the world.